CPTnet
29 August 2015
AL-KHALIL (HEBRON): A Week in Photos 9-15 August 2015
A week of occupation in photos: Click photos for links 
Through a boy's lens 
 Pictured here: A Palestinian boy uses a CPTers' camera to photograph Israeli police aggression. 
(15/08/2015)
CPTer doing his job
Pictured here: CPTer documenting the weekly human rights violation during the settler tour in Hebron.
(15/08/2015)
Preparation for prayer
Pictured here: 
Settlers children are accompanied by Israeli soldiers on their way to Shabat prayer

 passing by Palestinian houses
(14/08/2015)
Pinwheel for Peace
Pictured here:
 At Summer Camp in the Bedouin village Um al Kher which is under imminent threat of demolition, a boy is drawing a pinwheel "We love Peace".
(14/08/2015)
Settlers in Hebron challenge Israeli High Court
 Pictured here: An earlier decision by the Israeli High Court led to the demolition of an outpost synagogue on this land owned by a Palestinian family. Settlers have now again attempted to rebuild a synagogue and worship there on Palestinian land.
(14/08/2015)
In the hands of the occupation forces
 Pictured here: A 14-year-old Palestinian boy body searched and detained by Israeli soldiers in the old city of Hebron; he was later released.
(14/08/2015)
Free as a Kite
Pictured here:Despite the threat of demolition of her village, Susiya, in the South Hebron Hills this girl finds joy in flying a kite.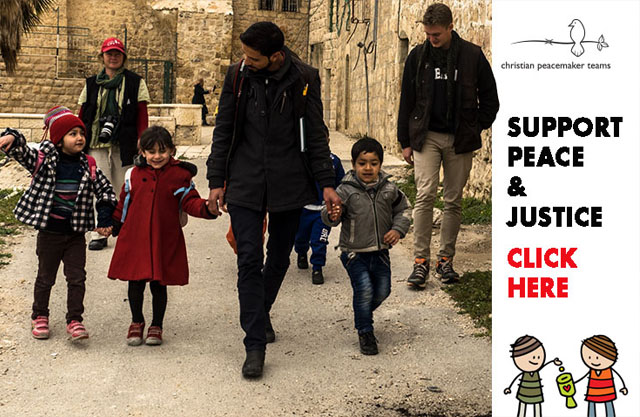 Our mailing address is:
cptheb@cpt.org

Consider a contribution to the Christian Peacemaker Teams to support peace and justice. Make a difference, click here bit.ly/CPT_Donate
To help the Palestine team continue telling the stories of the people in the
Hebron district, donate here.