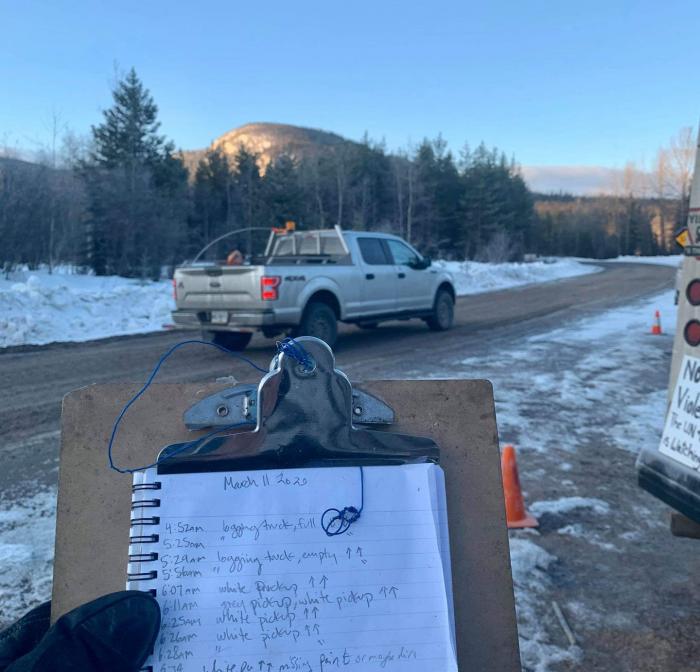 A Coastal GasLink vehicle entering Wet'suweten' Territory in March
Pray for all Indigenous communities subjected to governments that treat them as disposable during this Covid-19 epidemic.
Across Turtle Island, people are practicing social distancing. Sadly, politicians serving corporate interests have classified mining and resource extraction projects as "essential" work. In Wet'suwet'en Territory, Coastal Gas employees continue to work on the pipeline. Jen Wickham from Wet'suwet'en Territory has reported that many of the personnel are not wearing the proper PPE (Personal Protective Equipment)—putting the entire community at risk. The possibility of infection from these workers is real.  In LaLoche, a Dene village in Northern Saskatchewan, residents are currently experiencing an outbreak of Covid-19 as a result of an employee returning from Alberta's oil fields.
Meanwhile, the Navajo Nation, one-third of whose residents have no running water, has the highest per capita infection rate in the U.S.  Doctors Without Borders has sent its medical teams to help, but the U.S. Federal government continues to withhold aid.
Spreading disease to Indigenous peoples goes hand in hand with colonialism. It may not be smallpox in blankets, but opening worker camps near Indigenous communities, perpetuating inadequate housing and sanitation on reserves as well as the lack of healthcare creates conditions where Covid-19 can spread.