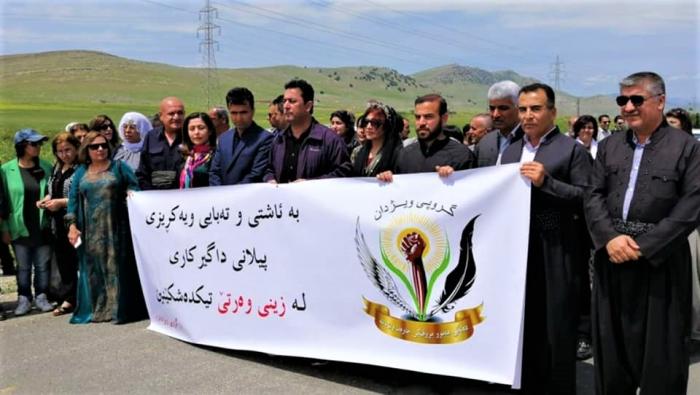 A group of protestors stand on a road holding a banner in Kurdish that says, بە ئاشتی و تەبایی و یەکڕیزی پیلانی داگیرکاری لەسەر زینی وەرتێ تێکدەشکێنین
(We will break down the invasion plot from Warte mountain with unity, harmony, and peace)
Pray for the residents of Zine Warte who are facing increased military tensions with the building of new KDP government and PKK guerilla bases during the coronavirus lockdown.
Pray for the public employees and pensioners  of Iraqi Kurdistan who are not receiving full salaries from the government.
Pray for the many refugees and Internally Displaced Persons (IDPs) living in precarious conditions throughout Kurdistan and Iraq.
In March the construction of a new military base began in Zine Warte and in April the Turkish Air Force started bombing the area. Residents are living in fear as the security situation deteriorates, threatening their safety and economic stability in the midst of the continuing battle against coronavirus.
In April CPT attended a number of protests led by teachers, medical workers and other public sector employees who have either not received or only received partial salaries from the government for the past six months. Since 2014 they have struggled from the insecurity of sudden wage cuts and delays in receiving their salaries.
Over one third of the people in Iraqi Kurdistan have been displaced by war and oppression. In a situation exacerbated by falling oil prices, the government says it would be unable to provide the care necessary if coronavirus broke out in any of the refugee camps in the region. Already many of these camps are struggling as services such as psychological and physical care are limited or halted due to lockdowns.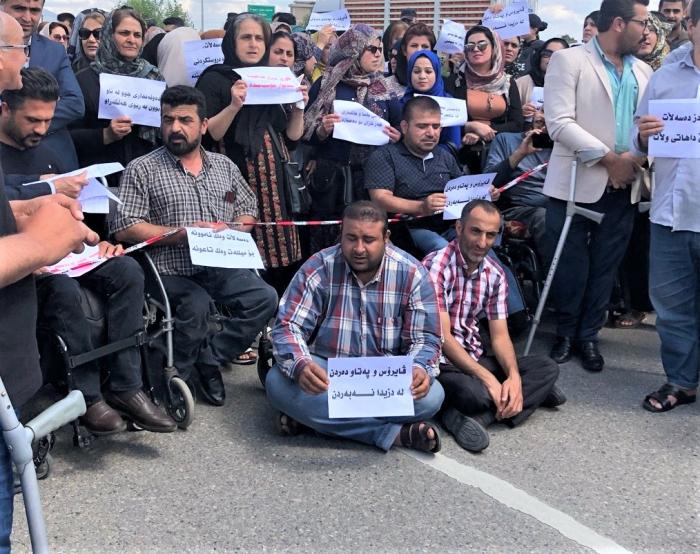 Protesters demanding the government pay their salaries are on a road holding paper signs. At the front are two people
sitting on the road and three people in wheelchairs. Behind them stand a crowd of people.