In Palestine, from the beginning of May, the situation has become really intense. It started at the Al-Aqsa Mosque during the holy month of Ramadan, closely followed by the planned Israeli eviction of the Palestinian neighborhood Al Sheikh Jarrah and then the war in Gaza strip.
It was a harsh month for all Palestinians across Palestine and the diaspora. As human rights observers working with CPT, our work was also harder. Being able to follow the news to participate in every demonstration in Al Khalil, staying in daily contact with family members from Al Sheikh Jarrah, and being in touch with an activist from Gaza during the war, making it harder to remain mentally stable with everything happening at once.
The situation started to cool down after the ceasefire but not 100%. But at least it will give people a break, even if it is a short one, and be helpful to focus on some self-care.
After such an intense month, I decided to take some days off, or as I like to call it 'days to run away' and escape from reality for a short time while knowing deep inside it is not forever. Although it is only temporary, it will give me a chance to relax and be re energised. But as a Palestinian, it is hard to be disconnected from the reality and live under Israeli occupation which is present in every aspect of our lives.
I decided to go to Ramallah, which is a Palestinian city 42.4 km from Al Khalil. In the old days, my dad tells me they used to go to Ramallah from Al Khalil directly through Jerusalem, a journey of one hour at the maximum. But now, with all the restrictions, checkpoints, and Palestinians from the West Bank not being allowed to enter Jerusalem, I am forced to take a completely different route to my dad. The route goes around Jerusalem, passing through different Palestinian villages, and takes two to three hours to reach Ramallah. And that was the beginning of my escape from reality.
I finally arrived in Ramallah after a long and exhausting journey. But this fatigue disappears when I meet some old friends. We started to have some fun, laughing about old memories. But then some of those memories related to the occupation. My friend shared his experience of crossing checkpoints and how he uses humour every time he crosses a checkpoint so it can't affect him mentally. And then all of us started to talk about our experiences when crossing checkpoints and how we managed to make it funny, so it can't affect us. Later that night, I realize that I can't be disconnected from reality during this vacation because the occupation is present in every aspect of our lives.
After such a good night with friends, I went to bed relaxed and ready for the next day as I plan to spend it in an outdoor swimming pool surrounded by trees and nature. I woke up around nine a.m. to the sound of my phone ringing. It was my brother telling me that I should check the news because the Palestinian Authority forces had assassinated a person that I know. I immediately jumped out of bed to check what is happening. Nizar Banat had been killed. It was a shock to see that. Nizar wasn't a random person; he was a famous Palestinian critic that always exposed the corruption of the Palestinian Authority (PA). A person that had never been afraid of expressing his opinions no matter what. Many indescribable feelings hit me at that moment, and part of me could not believe that Nizar was dead.
I didn't know what to do; I felt confused about everything. I needed to clear my mind so I can understand what exactly has happened to Nizar. I arrived at the swimming pool, and I kept checking the news to follow up on exactly what happened to him. Thirty minutes later, information started to spread all over the internet talking about how the PA assassinated him. At that moment, a feeling of anger controls me at the idea that Palestinians face two kinds of oppression, the Israeli oppression and the internal oppression by the Palestinian Authority.
I started to collect my stuff, and I decided to go to the city center where Palestinian activists called for a protest against this brutal crime of killing Nizar.
Al Manara square in Ramallah was full of angry Palestinians who went to the streets to express their anger and to stand up against the killing of their free voice Nizar, the one who when he was talking about and criticizing the Palestinian Authority like he was talking about what many Palestinians wants to say.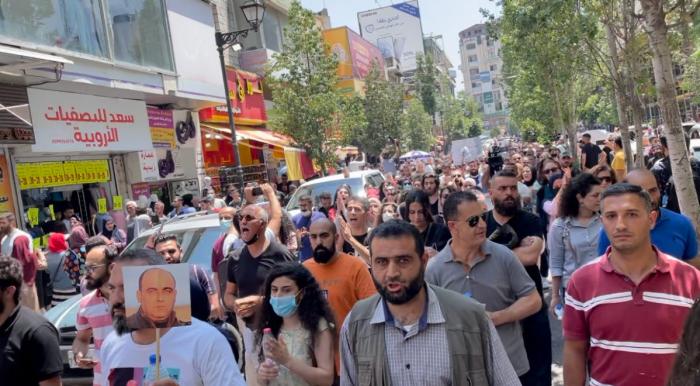 The demonstration started to go to the President's office where people wanted to make their voices heard, that they are against what has happened and demanding that he leave his position as a President. But it didn't take too long before the police blocked the way and started to fire tear gas against Palestinian civilians. This was hard for me to see how we have to deal with two types of oppression: the Israeli occupation and the Palestinian Authority.
It's unbelievable how things happened in general but what's more absurd is how we Palestinians cannot disconnect from everything happening around us. Even if we decide to for a short time, we cannot; it seems we have no choice.