By B.S
Students in the H2 area of Al-Khalil/Hebron cross five checkpoints daily when going back and forth to their schools in the vicinity of Abraham Mosque. CPT teams conduct daily monitoring from 7:00-8:00 am at the checkpoints. Here are some examples of what we witness:
Hassan, a 14-year-old student, was distraught. He cried as he ran, late for class and worried about being punished by the headmaster. The soldiers stationed between Abed and Court checkpoints stopped him, suspecting that he might be up to something dangerous because he was running. The soldiers shouted and screamed at him to stop and then ordered him to put his bag on the ground. Their shouts shocked Hassan, who threw his bag on the ground and continued on his way to school. He was still worried about being late, and this was the first thing that occurred to him. Our team ran towards him to protect him from the soldiers. We intervened and tried to calm him down, asking him his name, but he could not remember it since he was panicking and crying. The soldiers arrived and asked him to pull up his shirt to ensure that he was not hiding something sharp. He panicked and was unable to react. We stayed with him while the soldiers checked him physically and searched his bag.
I asked myself: where in this world does a child cross five checkpoints on his way to school? How will the rest of his day be? How will he interact in the classroom, and how will he stay safe in his day-to-day life?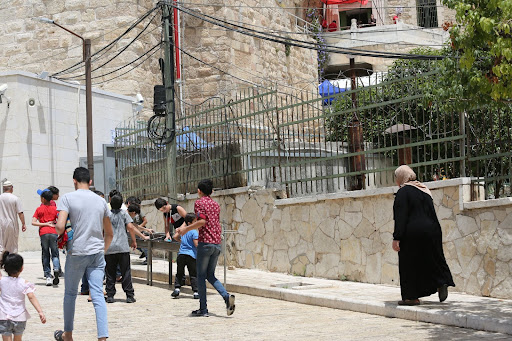 Another day, around 6:45 am, 13-year-old Montaser was standing at the entrance of the Ibrahimiyeh School waiting for us. He was crying. He stopped us and told us that he had been on his way to school early to play football with friends in the school playground when the soldier at the checkpoint slapped him in the face, turning his left cheek red. He was scared and unable to talk after the incident. We calmed him down, told him to take a deep breath, and gave him some water. When he was feeling better, we asked his name and the reason why the soldier slapped him on his face. He said that when he was crossing the checkpoint, the soldier screamed at him and ordered him to pass, then he told him to stop, then insulted him in Arabic and told him to get the hell out of here. Montaser asked the soldier his reason for insulting him. He told the soldier that he was just passing the checkpoint; why was he treating him rudely? The soldier then slapped him without any reason and ordered him, "now get out of here." Montaser continued on his way to school when the headmaster arrived and calmed him down. We recommended to the headmaster that Montaser talk with the school's counsellor, and we informed his family about this incident.
It saddens me that Montaser was so full of energy earlier that day to go to school and play football with his friends but he was robbed of this opportunity by an occupation soldier who slapped him in the face without any reason.