People live simply. The family wakes up at sunrise. The father goes to his land to grow and harvest crops and raise livestock for his family to eat. The mother prepares food, embroiders the most beautiful dresses, and waits for her children to return from the Katatib1 where she used to teach and tell her what they learned today.
This story, like many other Palestinian stories, tells of Palestinian families living in peace and simplicity before a foreign army with weapons took it away from them by force.
After the First World War and the fall of the Ottoman Empire, the Treaty of Sevres was signed between the Allied forces and the Ottoman Turks. This placed Palestine under the British Mandate in 1920. The British Mandate and the World Zionist Organization then signed the Balfour Declaration, an agreement that opened the door to Jewish emigration to Palestine, established a Jewish National House, and offered Palestinian citizenship.
A weaponized 'army' then entered the Palestinian territory, establishing the Israeli state on its ruins through the killing and ethnic cleansing of Palestinians and forced displacement to other parts of the country.
The philosophy of Israelis at the time—in particular Prime Minister Ben Gurion—was 'adults die, and children forget.' And this practice continues towards Palestinians today.
However, the Palestinian people have rejected all attacks and resisted, working to restore their country and their rights. They have fought with stone, pen, and image, and cultivated the idea of continual resistance.
Until he was five years old, Mohammed lived in the village of Iraq Al-Manshiyah, Gaza. He had started studying in first grade in the local school that opened the same year. But he didn't get to complete that first year as the Israeli army arrived in the village as part of the Nakba in 1948.
In a recent conversation, Mohammed told CPT Palestine, "I always make sure at every family gathering to tell my children and grandchildren stories of our country of origin. I describe to them the location of our old home so that they will one day return to it."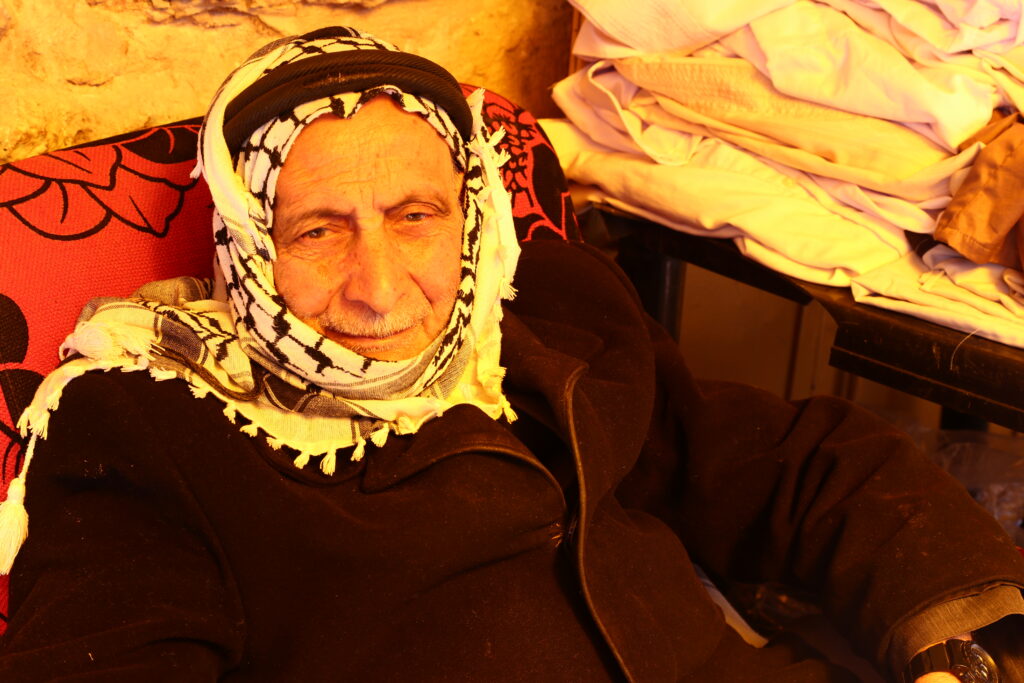 He told us what happened in his village when the war started. The Egyptian and Sudanese armies came to free the village, with their leadership concentrated in Fallujah village. The Israeli military was holding people in the Tita area, and when they saw the Egyptians and Sudanese coming, they shouted from the mountain top, "Kill them, kill them!" Many Palestinians were killed before the Egyptian and Sudanese could free them.
Along these volatile roads, a young child miraculously survived. His family searched for a safe area where he slept until they reached Hebron. They lived in Camp Arub, where he waited to return home and complete his schooling.
Many people died in the war, and many left their homes and sought refuge. Palestinians had no money and had lost their land. They were forced to live away from everything they knew and were raised in, becoming refugees with only memories.
Fathia was born 50 years ago in Arub Camp, where she lives today. When asked about her original country, Fathia said she was from the village of Iraq Al-Manshiya. She began describing the situation of people in the village during her father's youth. The village was made up of four families who farmed wheat and barley. Each family owned a hall, where families gathered and ate. When guests came, they were hosted in the hall, and the whole village came together to prepare food for the guests. She told us about her aunt's dress, which has her grandmother's buttons on it, she still has it with her in the closet.
Fathia shared other memories, including the day she went on a school trip. "When the driver explained to us where we were going, he said we'd be passing by the village of Iraq Al-Manshiya. I asked him to stop immediately, and I got off the bus and looked at my village from afar," she recalled. "I cried a lot for my village, for a house with its key, and I wanted to go back to live there as my father had."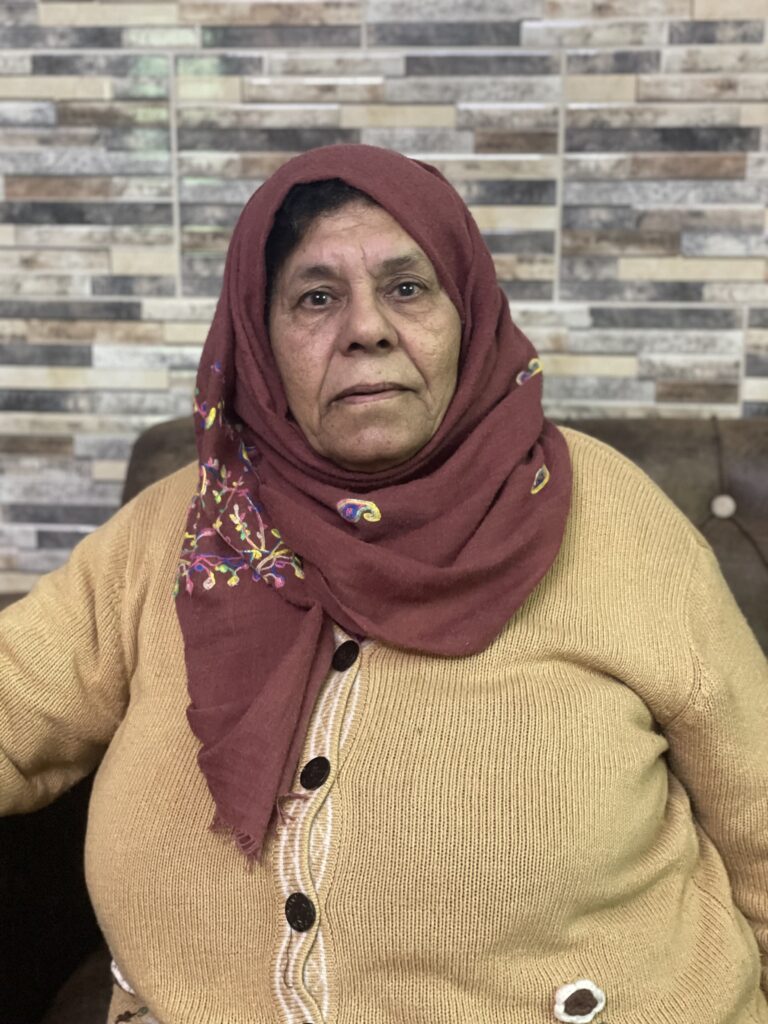 Once Fathia and her mother were talking about the village, its inhabitants and the neighbours who migrated to the camp. "She started crying, and she couldn't stop," Fathia remembered. "My friends and I from the camp decided to apply for an Israeli permit for our mothers who migrated together, but it was very difficult because Palestinians are not allowed to visit their home country. Finally, when they were able to visit, they were persecuted and reminded that they were strangers in their homeland."
They die
And in their hearts is the heartbreak of homelessness
Our Ancestors
Their Memory Before the Fence
A jar full of words
And for our grandparents
In their warm graves
Mummified Memory
They live in the dream of coming back.
– Lillian Bshara Mansour
Suher is a 22-year-old college student. Both she and her mother were born in Al-Khalil/ Hebron, but she says, "I'm from the village of Beit Jibrin, and we'll go back there one day." Suher accurately describes the village even though she has never been allowed to visit there, and she feels as though she lived and grew up there. The Israeli army has denied her and her family even a one-time visit because it is now declared a closed military area.
"My parents didn't live in the village, but they told us what happened with their parents," she said. "My great-uncle was ten years old when they left. I always ask him to tell me everything about the experiences and life he lived in the village and the tales that his parents and relatives told him."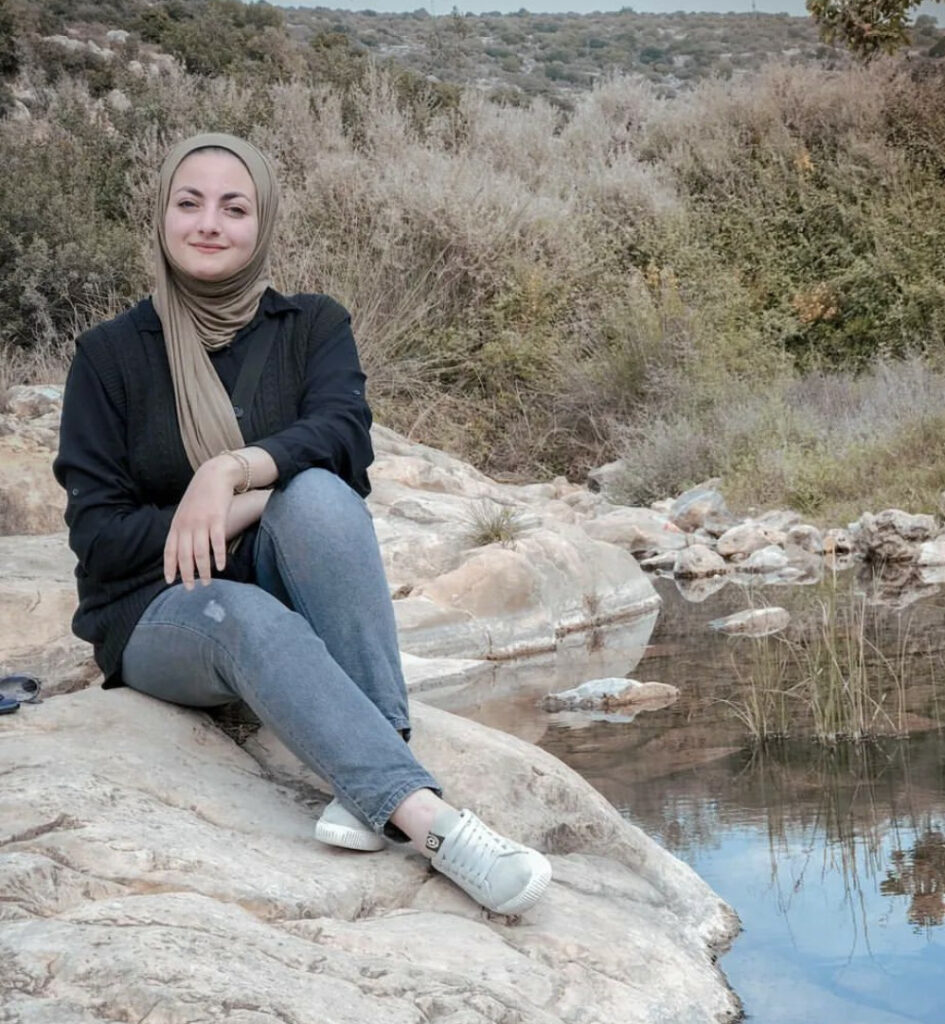 "I know about the village of Beit Jibrin, its charming nature, mountains, and extended plains, and it has so many caves," explains Suher. "It's famous for growing citrus, and in the harvest season, everyone takes a holiday—even the schoolboys—to harvest the fruit and transport it to Gaza and Hebron. And while they tell me all these things, I feel so sad because I couldn't simply live in the countryside and feel its calm as I have no choice."
She concludes by saying, "The concept of the Right of Return does not concern me alone. I am not the only one who has been deprived of Beit Jabrin. And it's not just my family that has left their house, and Beit Jibrin is not the only village that has had its indigenous people taken away from it. The Right of Return issue concerns an entire country and people abandoned and robbed of their rights. Everyone has the right to have the opportunity to go home or decide where they want to go."
Since the invasion of Palestine in 1948, there are more than seven million Palestinian refugees worldwide. Millions of Palestinians have been born and live in lands that are not their own, but they always remember that they have land and will return to it. The key to the Palestinian home is inherited from generation to generation, from grandchild to grandchild, until we return.
---
1A place of worship.