CPTnet
2 July 2011
CPT INTERNATIONAL: CPTer and CPT colleagues waiting on Canadian and U.S. boats
to Gaza; Greece refuses to let Gaza flotilla sail
Faced with increasing pressure from the U.S. and Israeli
governments, the government of Greece has officially prohibited any ships in
its harbors from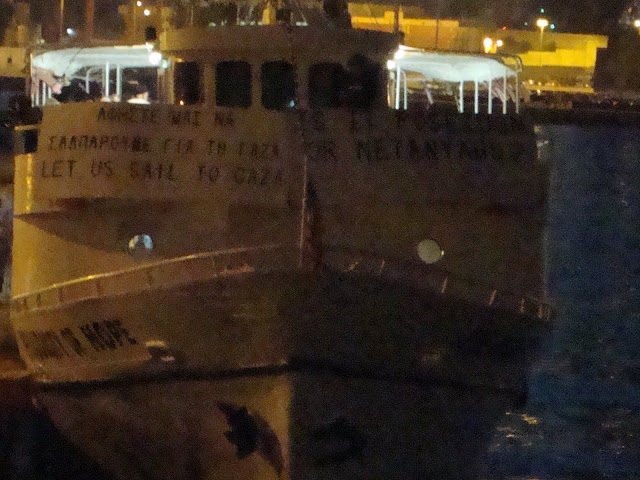 leaving for Gaza.  This
action was directed at the organizers of the Freedom Flotilla, the organizers
of which intended to break the blockade that Israel has imposed on the Gaza
Strip since June 2007. 
CPT reservist David Milne is among the passengers on the
Canadian boat in the flotilla, the Tahrir,
as well as Harmeet Singh Sooden, a member of the CPT delegation to Iraq kidnapped
in 2005, and Israeli journalist Amira Hass, who has had extensive contact with
CPT's Hebron team.  On the U.S. ship
along with luminaries such as Pulitzer Prize winning author Alice Walker and Holocaust
survivor Hedy Epstein, are CPT trainer and colleague, Kathy Kelly and former
CPT reservist, Robert Naiman.
Last week, the Swedish and Irish ships, docked in Turkish
territorial waters, sustained engine and propeller damage.  Organizers of the flotilla accused Israel of
sending operatives to sabotage them, an allegation that Israeli denies.  The Irish ship has since withdrawn from the flotilla.
 Earlier, on 24 June, an
anonymous complaint was filed against the Audacity of Hope over its
"seaworthiness."  Yonatan Shapira, a
former Israeli Air Force pilot and anti-occupation conscientious objector, who
is a crew member of the Audacity of Hope, argued, "It is clear that this
complaint is not about seaworthiness but is an attempt to stop the boat from
leaving port in Athens."  David Smith,
the boat's engineer and a former Greenpeace activist said, "The boat is in top
sea shape and is a perfect choice for this type of mission."
The U.S. ship, The
Audacity of Hope attempted to sail to Gaza on 1 July, and was turned back
by the Greece coast guard, who arrested its captain.  Shapira said the captain's actions were
praiseworthy.  "The captain acted out of
concern for the safety of the passengers and boat by taking us away from the
Greek port where other flotilla boats are being sabotaged," Shapira said.
 Israel initially said
that it would ban journalists on the flotilla from entering Israel for the next
ten years, but withdrew the threat after complaints from international
journalists.
Robert Naiman told a journalist, "The fact of the matter is
that we have already won.  The
international press is talking about the blockade and Gaza.  The contradiction between the world of the
Israeli military officials and the world in which the rest of us live is
exposed for all to see." 
The organizers of the flotilla say they still plan to set
sail for Gaza on Monday.