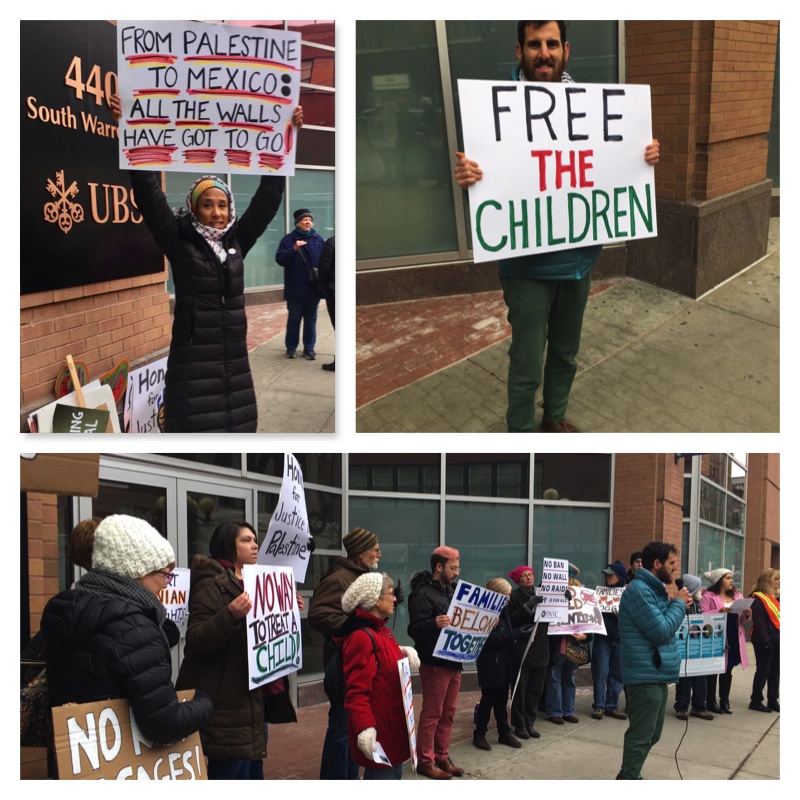 Top left: Sarah Nahar  Top right: Jonathan Brenneman
On World Children's Day, 20 November, CPT reservist Jonathan Brenneman and former CPT Executive Director Sarah Nahar participated in the "Rally to End Child Detention from the US to Palestine" in Syracuse, New York (Haudenosaunee Confederacy land).
Held outside Rep. John Katko's office, the event was organized by the Syracuse Peace Council (SPC). A coalition of organizations demanded the representative take action on behalf of children's rights. The Syracuse Immigrant and Refugee Defense Network highlighted the inhumane treatment of children at the U.S. /Mexico boarder. Unchained spoke of the need to end the carceral state, particularly the solitary confinement of children in New York.  Brenneman spoke on behalf of the Justice in Palestine task force of SPC, sharing experiences from his time with Christian Peacemaker Teams in Hebron, and highlighting the No Way To Treat a Child Campaign. 
Sarah led the delegation to deliver a petition with over 700 signatures to one of Rep Katko's staffers, and asked for Katko's support for HR 2407 Promoting Human Rights for Palestinian Children Living Under Israeli Military Occupation Act. They closed the event inviting all the participants to call Katko immediately and demand action on the issues raised in the rally. In organizing the action, Nahar and Brenneman applied concepts they learned in CPT training, especially the Roles in a Public Witness Checklist.